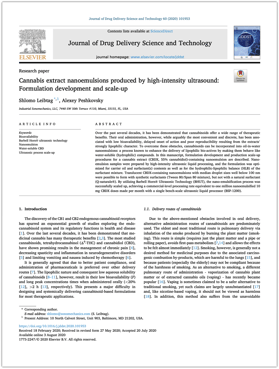 Industrial Sonomechanics® (ISM) is pleased to announce that our peer-reviewed research article, "Cannabis Extract Nanoemulsions Produced by High-intensity Ultrasound: Formulation Development and Scale-up", was recently published in the Journal of Drug Delivery Science and Technology and is now accessible online. The article compares natural and synthetic surfactant-based "water-soluble" CBD nanoemulsion formulations and describes methods used for their optimization and production with scalable Barbell Horn® Ultrasonic Technology (BHUT).
The paper describes two main types of cannabis extract nanoemulsions (natural and synthetic surfactant-based), focusing on formulation optimization procedures, production processes and droplet size analysis techniques used to evaluate the results. ISM's LSP-600 processor configured in the batch-mode was used for the laboratory-scale optimization experiments, after which the process was transferred to the bench scale using our BSP-1200 processor operating in the flow-through mode. Over one million of nano-emulsified 10 mg CBD extract doses were shown to be possible to produce with one BSP-1200 unit per month. This number can be increased by the factor of five by further upgrading to our ISP-3000 processor configured in the flow-through mode.
While not referenced in the article, ISM has since introduced a product called NanoStabilizer®. This all-in-one, tasteless formulation is optimized for the production of translucent nanoemulsions with much smaller droplet sizes than could be achieved prior to its development.

The article is available to download at the below link.
THE FOLLOWING MAIN POINTS ARE DISCUSSED:
Delivery routes of cannabinoids: smoking, vaping, sub-lingual, intranasal, topical, transdermal and digestive.

Desirable properties of

nanoemulsions: water-compatible, physically and chemically stable, able to provide higher bioavailability and faster absorption.
Common nanoemulsion fabrication methods.
Formulation optimization procedures for translucent, cannabinoid-loaded nanoemulsions produced by high-intensity ultrasound.
Nanoemulsion production scale-up with Barbell Horn®-based ultrasonic liquid processors.
If you have any questions, please do not hesitate to
contact us
or leave a comment below
.