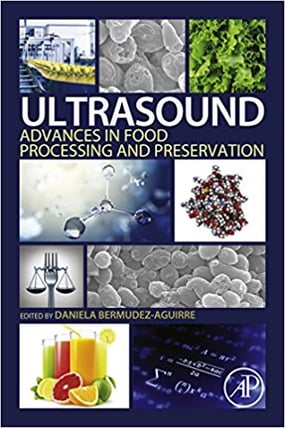 Industrial Sonomechanics (ISM) is pleased to announce the recent publication of a book entitled "Ultrasound: Advances in Food Processing and Preservation," edited by Dr. Daniela Bermudez-Aguirre (Academic Press, 2017). The book provides an extensive overview of the potential of ultrasound technology to drive innovation in the field of food processing and preservation, and features a chapter by ISM's co-founder, President and Chief Scientific Officer, Dr. Alexey Peshkovsky. This chapter, entitled "From Research to Production: Overcoming Scale-Up Limitations of Ultrasonic Processing," explains how ultrasonic processing can be directly scaled up from laboratory to production environments while maintaining reproducible, high-quality results.
Industrial
ultrasonic processors
incorporate significantly larger ultrasonic horns (probes, sonotrodes) than
laboratory ones
, enabling them to generate higher-volume cavitation zones and, therefore, process substantially more material per unit of time.
Direct
scale-up (one with identical results at both scales) requires the same intensity of cavitation to be applied in the production environment as was originally used in the laboratory. This means that in order to achieve reproducible results after the scale-up, horn amplitudes in the laboratory and industrial processors must be maintained at the same high level.
Dr.
Peshkovsky's
chapter
explains how this can be achieved with ISM's patented Barbell Horn Ultrasonic Technology (
BHUT
) - an advance with groundbreaking potential for the food and beverage industry.


The book is available for purchase here.
If you have any questions, please do not hesitate to contact us.