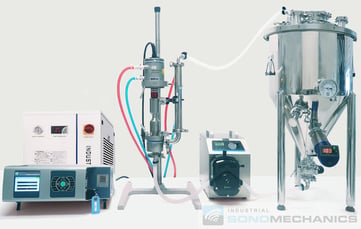 Industrial Sonomechanics (ISM) has cracked the code in ramping up the power of its high-amplitude industrial-scale ultrasonic liquid processor, increasing the unit's already high 3000 W power rating to 3600 W. The additional power enables our manufacturing customers to improve productivity, thereby increasing the ROI for each process they undertake. It also enables more applications involving viscous liquids (e.g., adhesives, detergents, coatings, food/beverage products), increasing the utility of ISM equipment within more diverse manufacturing conditions.
This comprehensive upgrade also includes Barbell Horn® design improvements, the addition of a storage/mixing tank with magnetically coupled mixer, as well as many enhanced generator features (e.g., intuitive user interface, better overload protection, several new external control/monitoring features), all in a more compact and robust frame.
New ultrasonic generator features:
Increased power
When working with high flow rates, viscous liquids or shear-thickening materials, the ultrasonic generator automatically supplies additional power in order to maintain the required ultrasonic amplitude. The extra 600 W of available power will provide greater flexibility and convenience to our customers, allowing them to meet higher productivity demands while working with a wider range of liquid materials. The unit's input power requirements continue to be 200 – 240 VAC single-phase, 50/60 Hz, 20 Amps.
New features, improved placement, display and controls
Unlike the previous vertically oriented generator that was typically mounted on a wall, the new horizontal 3600 W model can simply be placed on a workbench. The unit features a larger, full-color display with better contrast, bigger font and quicker readout information refresh rate. Its intuitive menu offers several new options (e.g., timed processing and pulsed regime) and makes it easier to control the processor and change the main settings (e.g., via dedicated ultrasonic amplitude and scan stack hot buttons). Essential features such as continuous resonant frequency lock and constant amplitude (maintained at any desired level between 20 and 100 %, regardless of the power draw) have, of course, been retained.
Automation and external control options
The new ultrasonic generator is designed for optional automation and external control/monitoring, featuring an Ethernet/IP connector (for communication between the generator and an automation network) and an Inputs/Outputs connector (for remote generator control via input signals and for remote readout of status output signals).

For further detailed information on the new 3,600 W generator, please download the ISP-3600 Ultrasonic Processor User Manual.
Improved HBHB-Type Barbell Horn® design: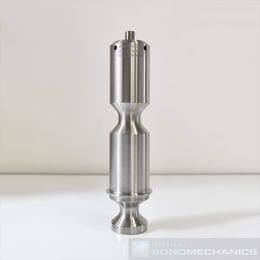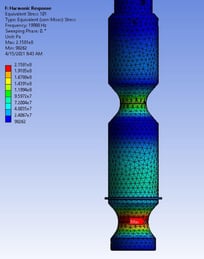 Our universal (appropriate for both flow-through and batch-mode applications) HBHB-Type Barbell Horn® supplied with the ISP-3600 processor has been re-designed to provide up to 100 microns of ultrasonic amplitude while operating at much lower internal stress levels, leading to more stable performance and significantly improved longevity.
Storage/mixing tank with magnetically coupled mixer: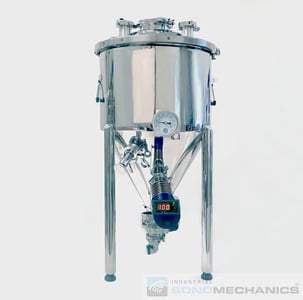 The upgraded turn-key flow-through ISP-3600 ultrasonic system comes with a 304 stainless steel cone-bottom storage/mixing tank that incorporates an energy-efficient, easy-to-maintain magnetically coupled mixer with precise speed control and reversible direction of rotation. The mixer ensures homogeneity of processing and complete isolation from the outside environment without requiring any mechanical seals. It is also possible to configure this tank with two mixers (rotating in the same or opposite directions), which can be particularly useful when working with powder suspensions or viscous liquids.
ISP-3600 application videos:
The below video shows a typical ISP-3600 setup used in various applications. Dr. Alexey Peshkovsky, President and Chief Scientific Officer of ISM, provides an overview of the process of making liquid and powdered water-soluble nanoemulsions.
Q&A Video: Overview of Nano-emulsification with ISP-3600 Ultrasonic Processor

For more information on our Barbell Horn® Ultrasonic Technology (BHUT) applied to large-scale ultrasonic liquid processing, please see the following videos:
Barbell Horn Ultrasonic Technology by Industrial Sonomechanics
Q&A with Dr. Peshkovsky: What is Unique About ISM's Ultrasonic Technology
Translation of Power is Still the Key to Scaled-Up Industrial Ultrasound
ISM's ISP-3600 ultrasonic processor is based on patented Barbell Horn® Ultrasonic Technology, which makes it possible to build industrial ultrasonic devices that output high vibration amplitudes, thereby convert all available 3600 W of generator power into high-intensity acoustic cavitation. This enables a variety of challenging industrial processes, including degassing, nano-dispersion, exfoliation, deagglomeration and nano-emulsification. Because Barbell Horns® have large output surface areas that uniformly vibrate at precisely controlled ultrasonic amplitudes, from low to extremely high, our processors are close to 100 % efficient and typically outperform alternative technologies with much higher power ratings.

Conventional ultrasonic processors frequently indicate their amplitude levels in %, failing to clarify what these values correspond to in microns of vibrating surface displacement. To our knowledge, no conventional ultrasonic processor outputting (not just rated to, but actually outputting into the processed liquid) 2000 W of power or more is currently able to produce an amplitude level over 20 - 25 microns at the 100 % setting. It is, however, well-known that ultrasonic amplitudes of at least 50 - 70 microns are necessary for most processes. ISM's ISP-3600 processor is unique in its ability to output over 100 microns at the 100 % setting, ensuring that all available power is efficiently applied, without anything going to waste.
ISM continuously conducts research and development aimed at improving its ultrasonic technology and optimizing it for different processes. Should you have questions about any of ISM's products or if you would like to speak with us about how to best utilize the ISP-3600's capacity for your application, please do not hesitate to contact us or simply leave a comment below