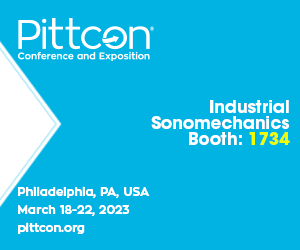 This March, Industrial Sonomechanics (ISM) will participate in the 2023 Pittcon Conference and Expo in Philadelphia, PA. At this event, ISM will exhibit key elements of its ultrasonic equipment used for degassing, dispersing, deagglomeration, wet milling, nano-crystallization, cell disruption, extraction, and the production of liposomes and nanoemulsions.
"Pittcon is a great opportunity for us to engage with many of our customers in a wide range of industries and collaboratively solve their liquid processing challenges", explains Dr. Alexey Peshkovsky, President and Chief Scientific Officer of ISM. "We look forward to seeing our current and prospective clients at Pittcon this year, as well as the innovations presented at the trade show."
The ISM team will be available at booth #1734 from March 20th to 22nd to answer any questions about our products. If you wish to schedule a meeting, please contact us to book a time.
Conference Information
Time and location:
PITTCON Conference and Expo
Atlanta, Georgia, USA
March 20-22, 2023
Venue address:
Pennsylvania Convention Center
Philadelphia, PA, USA
1101 Arch Street
Philadelphia, PA 19107
RELATED CONTENT:
ISM offers scalable, high-amplitude ultrasonic processors for a variety of liquid processing applications. The processors are based on our patented Barbell Horn® Ultrasonic Technology (BHUT), which makes it possible to tremendously intensify the manufacturing processes and guarantee reproducible and predictable results at any scale of operation. More information on BHUT is available in this short video:
Barbell Horn Ultrasonic Technology by Industrial Sonomechanics

Many liquid processing applications can benefit from high shear forces generated by ultrasonic cavitation. The below video describes how ISM's patented Barbell Horn Ultrasonic Technology (BHUT) allows customers from a broad range of industries (e.g. pharmaceutical, cosmetic, dermatological, food & beverage, petroleum, biofuel, pesticide, candle, ink & paint, adhesive) to intensify production and improve product quality.
Q&A with Dr. Peshkovsky: What is Unique About ISM Ultrasonic Liquid Processors?
ISM participates in multiple cannabis, food, and beverage industry trade shows across the U.S. throughout the year. If you would like to receive updates on where we are going next, please subscribe to our blog.
If you have any questions, please leave your comments below or contact us.