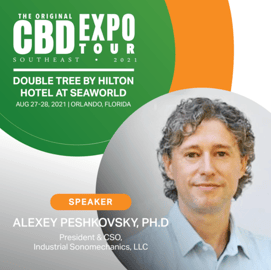 We are happy to announce that Industrial Sonomechanics (ISM) will participate in two scientific panel discussions at the 2021 CBD Expo Southeast & Delta 8 Conference this August in Orlando, Florida. ISM's President and Chief Scientific Officer, Dr. Alexey Peshkovsky, will talk about cannabis extract nanoemulsion benefits, production methodologies, characteristics, and administration methods. If you are interested in learning about producing liquid or powdered water-soluble CBD, Delta 9 & Delta 8 THC, terpene and other lipophilic bio-active ingredient-containing nanoemulsions, please join us on August 27th & 28th, 2021 in Orlando, FL.
---
Use code NETWORKSE for 50% off tickets at
https://cbdexpo.net/cbdexpo-southeast/#ticket
---
Conference Details:
Venue address:
DoubleTree by Hilton Hotel at SeaWorld
Dr. Alexey Peshkovsky's Panel Schedule:
Panel Discussion: Dueling Panel: The Delta 8 Showdown

Date: August 27th, 2021

Location: (Day 1) Panel Room A

Time: 02:30 pm - 03:15 pm

Moderator: Lola O. Ohonba

Panel Discussion: The Cutting Edge of Cannabinoid Science

Date: August 28th, 2021

Location: (Day 2) Panel Room A

Time: 11:15 am - 12:00 pm

Moderator: Bryant Jones
About the Speaker: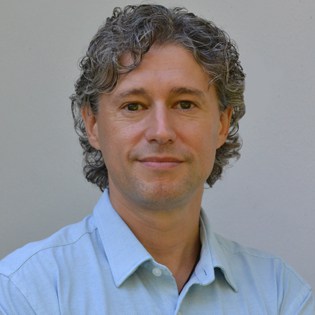 Dr. Alexey Peshkovsky holds a B.A. degree in Chemistry from the University of Pennsylvania and a Ph.D. degree in Physical Chemistry from Columbia University. His professional experience includes over 20 years as a researcher, product designer, business developer, and scientific director in both the academic and industrial sectors. He has authored over 40 scientific papers, utility patents, conference presentations, webinars, and books. At ISM, Dr. Peshkovsky is responsible for defining the company's strategic direction and overseeing the development of its technology and applications.
To learn more about ISM's ultrasonic equipment and NanoStabilizer® products, take a look at our website and YouTube channel, featuring past conference presentations, webinars, equipment demos, and Q&A videos.
ISM participates in multiple cannabis industry trade shows across the U.S. throughout the year. To receive updates on where we are exhibiting or speaking next, please subscribe to our blog.
If you have any questions, please leave your comments below or contact us.