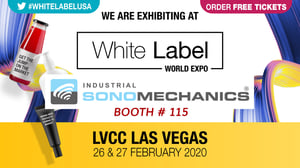 Industrial Sonomechanics (
ISM
)
is pleased to announce its participation
in the
2020 White Label USA Expo
, taking place in Las Vegas, NV, on February 26 - 27, 2020. If you are interested in producing your own "water-soluble" CBD or THC, please come by our booth #115, where s
everal specialists will be available to demonstrate our
ultrasonic processors

and

NanoStabilizer® - an all-in-one blend of tasteless
food-grade (GRAS)
carrier oils, emulsifiers and preservatives
. See how this
turn-key technology
makes it easy
to produce
highly translucent, permanently stable and fully water-compatible
cannabis extract nanoemulsions without having to go through formulation development, processing parameter optimization or any other type of R&D.
At the event, ISM's President and Chief Scientific Officer,
Dr. Alexey Peshkovsky
, will also deliver a keynote
presentation
, entitled
"Water-Soluble" CBD and THC: Ultrasonic Production of Cannabis Extract Nanoemulsions".
Seminar Summary
Being insoluble in water, orally administered cannabinoids cannot undergo gastrointestinal absorption until they are incorporated into mixed micelles, which are slowly formed in the small intestine. This presentation will demonstrate how to ultrasonically manufacture translucent "water-soluble" CBD/THC nanoemulsions that can be readily mixed into and administered as beverages. Since such nanoemulsions closely mimic naturally-formed mixed micelle suspensions, they significantly accelerate the onset of action and increase the bioavailability of incorporated cannabinoids.
Time and location:
Las Vegas Convention Center, South Hall 1
February 26 - 27th, 2020
10:00 - 6:00 pm
Booth # 115
Venue address:
Las Vegas Convention Center
3150 Paradise Road,
Las Vegas,
NV 89109
Should you have any questions, please do not hesitate to
contact us.