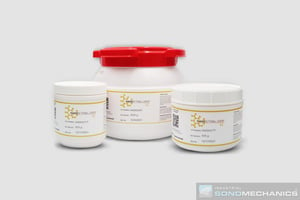 You do not have to be a scientist to make high-quality water-soluble CBD and THC! Industrial Sonomechanics' customers no longer need to develop their own formulations and production protocols for cannabis extract nanoemulsions. We are pleased to announce the launch of a new product: All-In-One NanoStabilizer®-LT. This convenient product can tremendously simplify the ultrasonic production of high-quality, translucent nanoemulsions of bio-active ingredients such as cannabis extracts. This product is designed to work in conjunction with our laboratory, bench and industrial ultrasonic processors, and comes with detailed, easy-to-follow instructions.
What is

NanoStabilizer®-LT

?
The new NanoStabilizer®-LT product is a proprietary blend of food-grade (GRAS) carrier oils, emulsifiers, and preservatives, all derived from natural sources. It contains the entire formulation necessary for producing translucent nanoemulsions of a variety of hydrophobic biologically active ingredients, including cannabis extracts (oils, distillates and isolates), pharmaceuticals and oil-soluble vitamins.
NanoStabilizer®-LT has practically no taste of its own and yields highly translucent and fully water-compatible nanoemulsions with droplet sizes of about 25 nanometers, ensuring a high bioavailability, accelerated onset of action, and permanent product stability. Loaded with up to 50 mg/ml of cannabinoids and/or other active ingredients, these nanoemulsions can be easily sterilized by filtration and infused into a variety of water-based products without changing their appearance. Finished products made by our customers include CBD and THC-infused beverages (water, tea, coffee, beer, juice, etc.), creams, oral and nasal sprays, tinctures, tablets, powders, edibles, and many more.
Benefits
Quickly and easily manufacture water-compatible translucent nanoemulsions loaded with up to 50 mg/ml of cannabinoids and/or other actives.
Enhance the bioavailability and accelerate the onset of action.
Ensure precise and reproducible therapeutic dosing.
Infuse water with a strong medicinal dose while retaining optical clarity.
Achieve droplet sizes of about 20 - 40 nanometers, ensuring translucency and permanent stability.
Easily sterile-filter to remove any microbial contamination.
How it works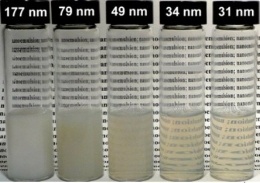 Translucent nanoemulsions are hard to design – they require optimized carrier oil and surfactant formulations and well-adjusted ultrasonic exposure parameters (amplitude, temperature, exposure time, etc.). With our NanoStabilizer®-LT, ultrasonic equipment, and easy-to-follow processing instructions, these R&D efforts are unnecessary.
What you need to have:
Your active ingredient (e.g., cannabis oil, distillate or isolate)
Distilled water
ISM ultrasonic processor

NanoStabilizer®-LT

Basic lab equipment (beakers, magnetic stir plate, digital balance)
What you need to do:
Follow the provided step-by-step instructions to produce the nanoemulsion.
Dose the nanoemulsion into your finished product (e.g., beverage, cream, edible).
How to purchase

NanoStabilizer®-LT
NanoStabilizer®-LT can be purchased at our online store. To gain instant access, please click the button below.
Have questions or comments? Please do not hesitate to leave them below or contact us!