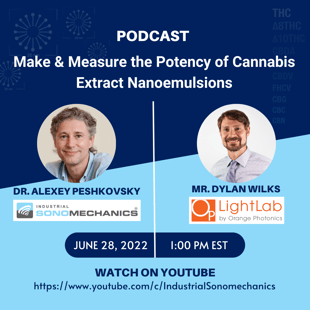 At 1:00 pm EST on June 28th, 2022, please join us for a YouTube podcast with a live Q&A session. This event, entitled "Make and Measure the Potency of Cannabis Extract Nanoemulsions", is a collaboration project between Industrial Sonomechanics (ISM) and Orange Photonics, where Dr. Alexey Peshkovsky (ISM) and Mr. Dylan Wilks (Orange Photonics) will discuss:
1. ISM's ultrasonic technology and NanoStabilizer® formulations used to produce water-soluble cannabis extract nanoemulsions in the forms of translucent liquids, powders, and quick-disintegrating tablets.
2. Principles of Orange Photonics' Light Lab liquid chromatography technology used to measure the potency of liquid and powdered water-soluble cannabis extract nanoemulsions, including detection limits for various cannabinoids.
3. Best ways to prepare samples comprising various nanoemulsion types for accurate cannabinoid content analysis.
4. Typical reasons for and ways to avoid inconsistent or diminishing cannabinoid potency results in nanoemulsions.
5. Benefits of having a Light Lab cannabis analyzer in-house.
We will be chatting with our viewers throughout the presentation. If interested, please join the conversation at 1:00 pm EST on June 28th, 2022!
"Make and Measure the Potency of Cannabis Extract Nanoemulsions"
About ISM
ISM is a research & development, equipment design, and process consulting firm, specializing in high-intensity ultrasound for the cannabis, pharmaceutical, nutraceutical, and cosmetics industries. Our laboratory, bench, and industrial ultrasonic processors in conjunction with All-In-One NanoStabilizer®-LT and LSO enable our customers to make their own top-quality liquid and powdered nano-formulations at any scale.
ISM's Turn-key Solution:
BHUT-based Ultrasonic processors

NanoStabilizers®

Guides/SOPs/Videos/Customer Support
Industrial Sonomechanics' Capabilities
Turn-key ultrasonic systems that can be matched to any volume requirements
High amplitudes at high volumes (read more on why this matters)
Providing process/applications solutions
Solving engineering challenges and making equipment adaptations
Custom and off-the-shelf nano-formulations
Contract manufacturing and made-to-order nano-formulations (contact us for pricing)
For the past 16 years Industrial Sonomechanics has been servicing commercial clients from many industries, both within the U.S. and across the globe, supplying turn-key ultrasonic liquid processors and NanoStabilizer® formulations. ISM's constant equipment improvements and upgrades, ability to customize nano-formulations, and make equipment adaptations, is how we have been able to serve our clients - from small/startup companies to the largest manufacturers in the world.
If you have any questions, please leave your comments below or contact us.