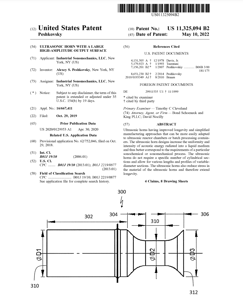 Industrial Sonomechanics (ISM) is pleased to announce that the United States Patent and Trademark Office has issued U.S. Patent No. 11,325,094 B2, entitled "Ultrasonic Horn With a Large High-Amplitude Output Surface".
This patent is an extension of our Barbell Horn Ultrasonic Technology (BHUT) intellectual property portfolio that further cements and protects our ultrasonic technology. It represents ISM's commitment to continuous improvement and ongoing equipment R&D.
The new patent protects several novel features that improve Barbell Horns' ability to provide high vibration amplitudes and large output surface areas simultaneously, circumventing the drawbacks of conventional ultrasonic systems.
"The issuance of this patent represents an important expansion of our patent family that further validates ISM's early vision to provide its customers and partners with the best possible ultrasonic horn designs, enabling them to scale up and commercialize their process innovations", said Dr. Alexey Peshkovsky, ISM President and Chief Scientific Officer.
What is a Barbell Horn?
Barbell Horn® Ultrasonic Technology (BHUT)—ISM's core intellectual property—has resolved a significant issue associated with conventional ultrasonic equipment: insufficient processing intensity at a large scale resulting in diminished finished product quality obtained in the production environment. Barbell Horns® make it possible to increase the size of an ultrasonic processor without losing the required high amplitude and processing intensity.
BHUT-based laboratory, bench and industrial-scale ultrasonic processors can all provide extremely high ultrasonic amplitudes (over 100 microns). Our customers are, therefore, able to count on reproducible post-scale-up results, where productivity rates are greatly increased while the highest finished product quality is maintained.
Learn more about ISM's groundbreaking invention, the Barbell Horn®, in this video:
About Industrial Sonomechanics
ISM is a research & development, equipment design and process consulting firm, specializing in high-power ultrasonic technology for liquid treatment. ISM offers bench and commercial-scale ultrasonic liquid processors, also called ultrasonic homogenizers, ultrasonic mixers, sonochemical reactors or ultrasonic wet milling systems, able to provide unprecedented processing rates and product quality.
Application examples include the production of nanoemulsions, liposomes, nanocrystals and wax nanoparticles for cannabis, pharmaceutical, cosmetic, food, ink, paint, coating, wood treatment, nanocomposite, pesticide, and fuel industries. In addition, we are actively involved in plant oil extraction, liquid degassing, cell disruption, polymer and epoxy processing, and more.
Learn more about how ISM enables customers to produce their own water-soluble liquid and powdered nano-formulations:
Have questions? Contact us or leave a comment below!