Industrial Sonomechanics, LLC (ISM) is pleased to announce the commercial availability of its new noise reduction enclosure, NRE-30. This versatile product significantly reduces the noise exposure created by ultrasonic processors in a wide range of configurations while allowing for clear visibility of the enclosed equipment.
The enclosure offers multiple important benefits to users, including a 270-degree view of the workspace and a size that keeps the unit small enough to move around yet sufficiently large to easily fit different types of equipment.
NRE-30 features a strong extruded aluminum frame with durable and transparent plexiglass panels for structural stability, and waterproof sound-absorbing materials for safe and easy clean up. The full-front access door allows for convenient entry, enabling the operator to safely access the equipment inside.
The enclosure is built to accommodate multiple equipment models and configurations, and comes with several sealable inlet/outlet access ports for tubing and cables as well as a support stand and clamping system that fits most ultrasonic processors on the market today.
Reduce the noise to a comfortable level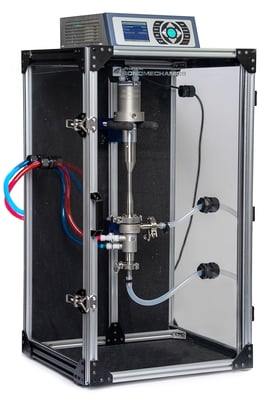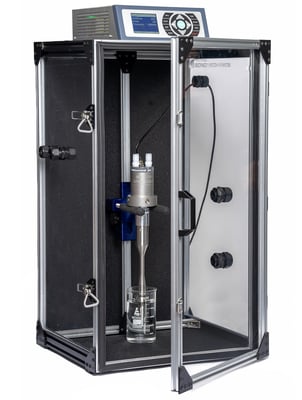 Ultrasonic liquid processors (a.k.a. sonicators, ultrasonic homogenizers) are frequently utilized in shared spaces, such as laboratories and production facilities. The noise emitted by these devices can cause significant discomfort and even hearing loss in cases of prolonged exposure without ear protection. Typically, noise-reducing ear muffs must be worn by anyone in the vicinity of ultrasonic equipment, which can be uncomfortable and disruptive to workplace communications.
ISM's new noise-reduction enclosure is the ideal solution to this issue as it lowers the noise to a comfortable level, well within the allowed OSHA and international occupational safety limits.
"Over the past year, ISM has experienced significant interest from customers for a method of reducing the noise produced by ultrasonic liquid processors," notes Alexey S. Peshkovsky, Ph.D., Co-founder, President and Chief Scientific Officer of Industrial Sonomechanics. "Developing a portable sound enclosure was the next logical step in adding to our product line, which comprises ultrasonic systems, NanoStabilizers®, and finished nano-formulations."
Peshkovsky continues, "Although we designed this sound enclosure to be used with our ultrasonic processors, we can easily adapt it to many other types of equipment, including non-ultrasonic. We are proud to offer this new noise-reduction product, which we believe is superior in many ways to the available alternatives."
Superior noise reduction and intelligent design
The Industrial Sonomechanics' noise-reduction enclosure provides the following benefits:
Significant noise reduction (30 dB) for a safe and comfortable work environment
Dimensions: 32" x 18" x 18"
Optimized and validated with

SPLnFFT

software (approved by the NIOSH)
Attractive design with easy access
270-degree view of the equipment and work product
Quick installation (arrives pre-assembled)
Easy cleaning
Cost-effective
Light and compact frame for easy transportation
Adapted for both batch and flow-through applications
Fits all ISM ultrasonic processors and configurations (

lab

,

bench

and

industrial

)
Customizable to fit other types of equipment (sonicators, homogenizers, mixers, pumps, etc.)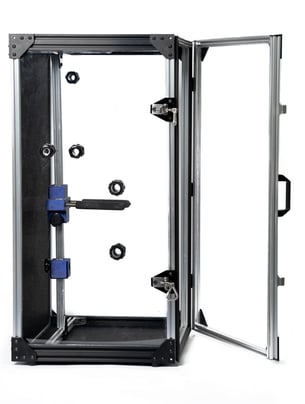 For more information, specifications, and to place an order, please visit our web store:
Have questions? Contact ISM at 1.786.233.9255‬ or contact@sonomechanics.com.
About Industrial Sonomechanics, LLC
Industrial Sonomechanics, LLC, (ISM) is a U.S.-based research & development, equipment design & manufacturing, and process consulting firm specializing in high-intensity ultrasonic technology for liquid treatment. ISM's patented Barbell Horn® Ultrasonic Technology (BHUT) allows generating extremely high ultrasonic amplitudes and cavitation intensities at any scale, making it possible to directly apply laboratory optimization results in an industrial production environment. ISM helps businesses optimize their ultrasound-assisted processes and implement them in commercial-scale production. Globally, clients can utilize ISM ultrasonic liquid processors in conjunction with NanoStabilizer® formulations or contract with ISM to provide finished nano-formulations. Visit www.sonomechanics.com for more information. Continue the conversation on Facebook, Twitter, LinkedIn and YouTube.