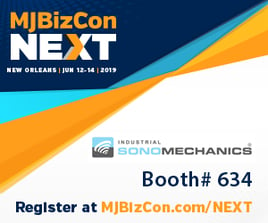 We are happy to announce that Industrial Sonomechanics (ISM) will participate in the 2019 MJBizConNEXT in New Orleans, LA. The conference will take place on June 12th - 14th, 2019, at the Ernest N. Morial Convention Center. If you are interested in making cannabis oil nanoemulsions, also known as water-soluble CBD or THC, please come by and see our ultrasonic equipment and NanoStabilizer™ at booth #634!


Time and location:
June 12th - 14th, 2019
ISM Booth: #634
Venue address:
Ernest N. Morial Convention Center
2900 Convention Center Blvd
ISM is a research & development, equipment design, and process consulting firm, specializing in high-intensity ultrasound for the cannabis, pharmaceutical, nutraceutical, and cosmetics industries. Our laboratory, bench and industrial ultrasonic processors in conjunction with All-In-One NanoStabilizer™ enable our customers to make their own nano-formulations on any scale.
Turn any type of cannabis extract (oil, isolate or distillate) into a nanoemulsion with enhanced bioavailability and rapid onset of action.
Produce translucent CBD and THC nanoemulsions to infuse water or another drink with a strong dose of medicine while retaining optical clarity.
Achieve water-compatibility and permanent stability.
Ensure precise dosing and predictable effects.
Avoid having to develop formulations and processing procedures.
With our Barbell Horn Ultrasonic Technology (BHUT), one can expect reproducible post-scale-up results, where the production rates are increased by orders of magnitude with no loss in the final product quality.
If you have any questions, please leave your comments below or contact us.