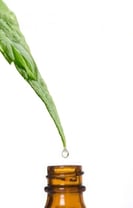 Cannabinoids (CBD, THC, etc.) are hydrophobic (water-hating) oily substances and, as such, not water-soluble. They can, however, be formulated to be water-compatible and appear water-soluble.
The term "water-soluble CBD" has lately been extensively used throughout the medical cannabis industry. "Water-soluble" means able to homogeneously incorporate into water by separating into molecules or ions (dissolve like sugar, alcohol or salt). Oily substances, however, are repelled by water, which forces them to stay separate from it.
CBD, THC and many other oils can, however, be made water compatible if they are formulated as micro- or nanoemulsions, which are stable and visually homogeneous oil/water mixtures. The definitions of these emulsion types, important differences between them and methods by which they can be prepared are provided in our earlier blog post: "Achieving Stability of Oil-in-Water and Water-in-Oil Emulsion Products" as well as in this free eBook:
Both micro- and nanoemulsions can be prepared in concentrated forms that are fully miscible with water and, therefore, appear water-soluble. Both require the use of surfactants, which dilute the products, but are not otherwise a major concern, since several natural options are available with minimal negative effects. It is, of course, beneficial to use as little surfactants as possible. This is where nanoemulsions have a clear advantage: the amounts of surfactants used for their preparation are up to 10 times lower that those needed to make microemulsions.
Benefits of CBD and THC Nanoemulsions
Besides being water-compatible and easily mixed into beverages at essentially any desired concentrations, cannabis extract nanoemulsions (nano-cannabinoids) provide exceptionally high bioavailability and therapeutic effect, and are absorbed by the body, either orally or through the skin, very rapidly and completely. The uptake starts to occur in the mouth almost immediately upon oral administration. This means higher potency and faster onset of action for lower doses.
Further information on CBD and THC nanoemulsions, including how they can be prepared using ultrasonic liquid processors, is provided in our recent blog post: "Are Cannabinoids More Effective in Nano Form?"
Have comments? Please do not hesitate to leave them below. We are preparing more articles on the topic of Medical Cannabis. Subscribe to our blog and you will be notified when they go live!