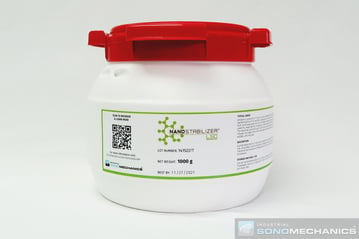 If you want to produce cannabis extract nanoemulsions in water-soluble powder form, look no further than Industrial Sonomechanics' (ISM) new offering — the tasteless, all-natural and organic All-In-One NanoStabilizer®-LSO formulation. Building on the tremendous success of our All-In-One NanoStabilizer®-LT introduced in 2018, the ISM team is at it again as it pushes the envelope of innovation in the production of water-compatible nanoemulsions.
Over the past year, we have experienced significant interest from customers for a flexible, yet cost-effective method to make a finished nanoemulsion in powder form that reconstitutes back into a liquid nanoemulsion upon contact with water. The creation of NanoStabilizer®-LSO now makes it possible for companies to produce such water-soluble powders from their active ingredients (CBD, Delta 9 THC, Delta 8 THC, essential oils, vitamins, nutraceuticals, etc.), bringing their branding and application ideas to life.
What is needed to produce water-soluble CBD/THC powders?
Much like the original NanoStabilizer®-LT formulation, NanoStabilizer®-LSO makes it possible for both the novice and professional to build a brand and a product utilizing five core components — an ISM high-intensity ultrasonic processor, an active ingredient (e.g., CBD, THC), distilled water, NanoStabilizer®-LSO, and a drying solution. Armed with these components, our customers can build a water-soluble powder profile to add to beverages, edibles and many other types of finished products or to be consumed directly as fast-dissolving tablets. The only limits are the imagination, vision, and desire of our customers.
Science in a Jar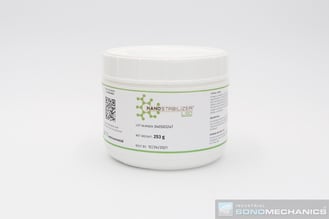 NanoStabilizer®-LSO is much more than just an enabling product. It is an essential element of an elegant, yet simple, cost-effective and complete solution designed to help you make water-soluble CBD/THC powders without having to develop formulations, as we have already done it for you. It is, as we call it, "Science in a Jar". NanoStabilizer®-LSO is an all-natural product, with an optional organic profile, that has distinct advantages in the marketplace:
Flavor Masker - ISM has built an integrated flavor masker into the NanoStabilizer®-LSO formula, which enables customers to make liquid or powdered nanoemulsions that can be added to multiple types of finished products without altering their original taste.
Bioavailability Enhancer - NanoStabilizer®-LSO provides the foundation for our customers to create "water-soluble" CBD and THC nanoemulsions with median droplet sizes around 150 nanometers, thereby making the cannabinoids highly bioavailable. Additionally, this formulation significantly shortens the onset times and ensures reproducible product performance.
Powder Dry - ISM has formulated NanoStabilizer®-LSO to keep up with your production requirements and pocketbook. Nanoemulsions based on this formulation enable multiple drying methods to meet your requirements. As an example, ISM has developed an "in-house" proprietary drying/powderization method as part of its contract manufacturing service that provides significantly increased cost effectiveness, higher yields, and greater powder grain size control than alternative options. So while spray drying is an option, it is not the only option.
Reconstitution Intelligence - Perhaps the most novel and effective aspect of NanoStabilizer®-LSO is the intelligence we have built into this emulsifying binder agent. Once added to water, bio-active powders created with NanoStabilizer®-LSO reconstitute into nanoemulsions with droplet sizes similar to those present in the original nanoemulsions before they were dried. This feature enables the producer of the powders to remain true to their intended bioavailability profiles and other pharmacokinetic requirements.
Why ISM?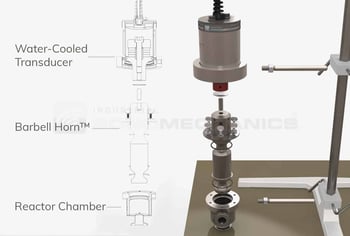 While there are many companies in the water-compatible nanoemulsion space, ISM is truly unique. Our company combines its bona fides as an Original Equipment Manufacturer together with its status as an Original Formulation Developer. ISM is the creator and manufacturer of its patented, directly scalable Barbell Horn® Ultrasonic Technology. Ultrasonic processors based on this technology enable our customers to produce top-quality nanoemulsions at production scale, not just in a beaker. Furthermore, our in-house capability to develop formulations gives our customers the confidence that they are working with the right team, able to support them no matter how challenging their objectives are.
The strength and attractiveness of NanoStabilizer®-LSO lies in its ability to enable the production of a wide range of bio-active powders that quickly and fully dissolve in water (reconstituting into high-quality nanoemulsions), as this can applied to finished products at the retail level. Imagine the typical customer going through the drive-through at his/her favorite coffee shop. Upon receiving their coffee, they add cream and sugar, open up their CBD powder packet and pour it into the beverage. Since it was made with ISM's NanoStabilizer®-LSO, the powder dissolves completely into the beverage. The taste remains unaltered due to the flavor masker built into the product, and CBD-containing nanodroplets distribute themselves evenly throughout the beverage, providing enhanced bioavailability of the bio-active and a rapid therapeutic effect.
Required materials, typical input/output quantities and concentrations
In the table below, you can view the typical inputs and outputs associated with the water-soluble nanoemulsion powder production process, represented by the following simple formula:
Water-Soluble Powder = Bio-active (e.g., cannabis extract) + NanoStabilizer®-LSO + H2O + ISM ultrasonic processor + Drying Solution

INPUTS

Bio-active: CBD, Delta 9 THC, Delta 8 THC, another cannabis extract, isolate, distillate, full- or broad-spectrum oil, terpene, oil-soluble vitamin, essential oil, mixtures thereof, etc.

200 g

Formulation

: NanoStabilizer®-LSO
800 g

Medium

: Distilled water
9,000 g

OUTPUTS

Liquid nanoemulsion at 20 mg/ml (2 %) bio-active concentration

10,000 g (10 L)

Water-soluble powder

at 200 mg/g (20 %) bio-active concentration
1000 g
Number of 10 mg doses in the powder
20,000
Required equipment and typical productivity rates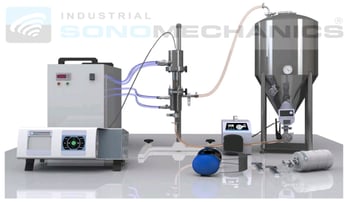 After pre-mixing the bio-active, NanoStabilizer®-LSO and water, a liquid nanoemulsion is first created, for which a high-amplitude production-level ultrasonic liquid processor is needed. For the nanoemulsion volume exemplified in the table above (10 L), ISM's bench-scale BSP-1200 or industrial-scale ISP-3600 unit can be utilized, with corresponding processing times of about 2 hours and 30 min, respectively. After the liquid nanoemulsion is ready, it can be converted into a powder using a drying solution. Typically, full equipment cost payback can be achieved in approximately 3 weeks of operation.
How to purchase

NanoStabilizer®-LSO
NanoStabilizer®-LSO can be purchased at our online store. To gain instant access, please click the button below.
Have questions or comments? Please do not hesitate to leave them below or contact us!