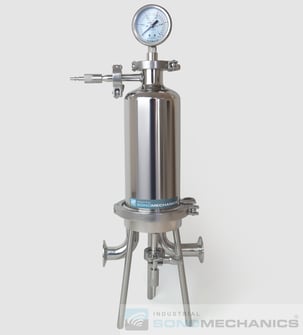 Benefits include significantly faster throughput, less downtime, and lower total cost of ownership.
Industrial Sonomechanics, LLC (ISM) is happy to announce the commercial availability of several new large-capacity in-line filtration products, which increase the efficiency of the nanoemulsion production process and lower the associated cost.
Filtering is key to nanoemulsion production
Filtration is a necessary post-processing step of ultrasonic nano-emulsification—a process that converts cannabis extracts and/or other hydrophobic bioactives into a water-compatible form. This new integrated unit removes microorganisms (sterilization), dust, titanium particles, and any leftover plant matter while making filtration convenient and highly scalable.
lSM's new in-line cartridge filter assembly (shown below) includes a stainless-steel housing (one-time purchase) and a replaceable hydrophilic-membrane filter cartridge with three pore size options—0.22 and 1 micron—to meet various application requirements.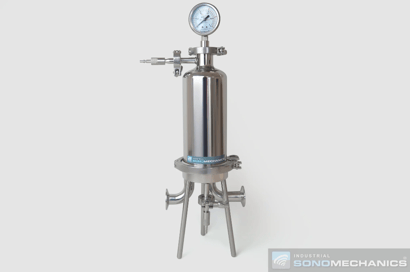 "Passing a nanoemulsion through a hydrophilic filter membrane is important for the food and beverage industries, as it removes particulate contamination. We have introduced this in-line filter assembly to take advantage of the unique high-volume production capacities of our patented ultrasonic processors so that our customers can create an industrial-scale turnkey system", notes Alexey S. Peshkovsky, Ph.D., Co-founder, President and Chief Scientific Officer of Industrial Sonomechanics. "Our new filter assembly can manage very large volumes, and the incorporated replaceable cartridges can be cleaned and reused, further reducing total cost of ownership."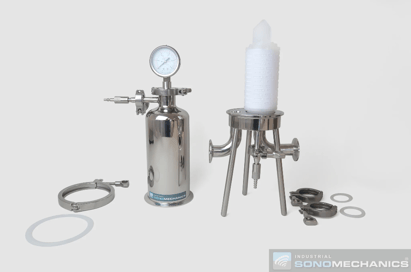 Designed for end-user convenience
Optimized to work with Industrial Sonomechanics' production-level ultrasonic processors, BSP-1200 and ISP-3600, this high-throughput in-line cartridge filter assembly is designed to provide convenience for the end-user, including the following benefits:
Removal of particulate contaminants to increase nanoemulsion quality and stability
Rapid high-volume filtering that reduces the required total processing time
Durable stainless steel housing with replaceable filter cartridges, which lowers cost of ownership
Integrated pressure gauge for convenient process monitoring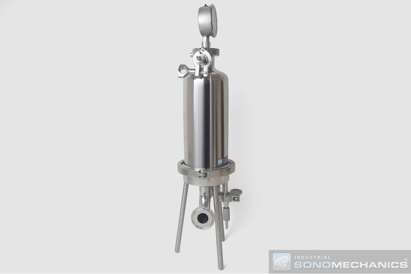 Where to purchase the new in-line filter assembly and cartridges
This new filtration product is currently sold on ISM's web store. For additional information, purchasing guidance, and user guides, please click the button below.
ISM routinely publishes educational blog articles and videos on the topic of water-soluble liquid and powdered nanoemulsions, as well as on the role of filtration in their production processes. For more information, please see:
Have questions? Please contact ISM at 1.786.233.9255‬ or contact@sonomechanics.com.
About Industrial Sonomechanics, LLC
Industrial Sonomechanics, LLC, (ISM) is a U.S.-based research & development, equipment design &manufacturing, and process consulting firm specializing in high-intensity ultrasonic technology for liquid treatment. ISM's patented Barbell Horn® Ultrasonic Technology (BHUT) allows generating extremely high ultrasonic amplitudes and cavitation intensities at any scale, making it possible to directly apply laboratory optimization results in an industrial production environment. ISM helps businesses optimize their ultrasound-assisted processes and implement them in commercial-scale production. Globally, clients can utilize ISM's ultrasonic liquid processors in conjunction with NanoStabilizerⓇ formulations or contract with ISM to provide finished nanoemulsions.
Visit www.sonomechanics.com for more information. Continue the conversation on Facebook, Twitter, LinkedIn and YouTube.