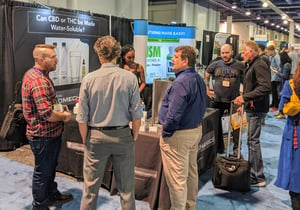 Last month, Industrial Sonomechanics (
ISM
) participated in the 2020 White Label Expo in Las Vegas, NV. This two-day event gathered thousands of exhibitors, speakers and CBD product suppliers under one roof, demonstrating the rapid growth of the cannabis industry. We are excited about the tremendous success of the show and thankful to those of you who were able to join us at our booth and attended Dr. Peshkovsky's presentation.

Our recently-developed solid nanoemulsions (powders and tablets) sparked lots of interest among companies intending to produce water-soluble CBD powder packets for
beverage infusion
, mixing water-soluble CBD with instant coffee, adding it to tea bags, offering sublingual water-soluble CBD tablets as well as in many other applications where the use of liquids is inconvenient while the benefits of nanoemulsions are essential
.

Dr. Alexey Peshkovsky, ISM's President and Chief Scientific Officer, also gave a talk, entitled "Water-Soluble" CBD and THC: Ultrasonic Production of Cannabis Extract Nanoemulsions, which covered a variety of topics, including: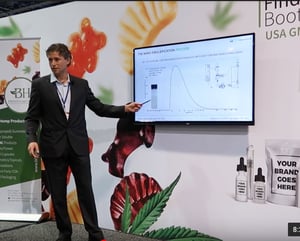 Benefits and drawbacks of different routes of cannabinoid delivery to the bloodstream;

Main constituents and properties of nanoemulsions;

Our turnkey solution for the ultrasonic production of translucent "water-soluble" CBD and THC nanoemulsion formulations;

Our pre-clinical pharmacokinetic study results showing the advantages of administering THC in the form of translucent nanoemulsions.
If you are interested in learning more about our technology or
have any other questions, please do not hesitate to
contact us.