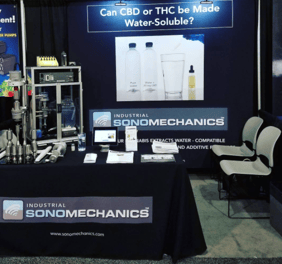 Last month, Industrial Sonomechanics (ISM) had a chance to participate in the Spring 2017 Marijuana Business Conference & Expo at the Gaylord National Resort & Convention Center near Washington, D.C. With its increased participation (thousands attending and 275 exhibitors on the expo floor), the conference provided a clear indication of the cannabis industry's accelerated growth.
ISM exhibited its laboratory, bench, and industrial-scale ultrasonic processors and additive packages used for the production of nanoemulsions of cannabis extracts, also known as "water-soluble CBD and THC". A wide variety of topics related to ultrasonic emulsification were covered by our presenters:
Reasons for low and unpredictable bioavailability profiles of traditional cannabis products;

Challenges of delivering accurate cannabinoid doses by common administration methods, such as smoking, vaping, dabbing, edibles, sublingual, etc.;

Advantages of turning cannabis extracts into water-compatible nanoemulsions: increased potency, accelerated onset of action, simplified administration and guaranteed dosing accuracy;

Formulation options: translucent versus milky nanoemulsions, flavour, stability, etc.
With decades of experience in formulating

nanoemulsions and providing ultrasonic equipment to the pharmaceutical industry, ISM

was delighted to bring its solutions

to the 2017 MJBiz Conference & Expo and the cannabis industry.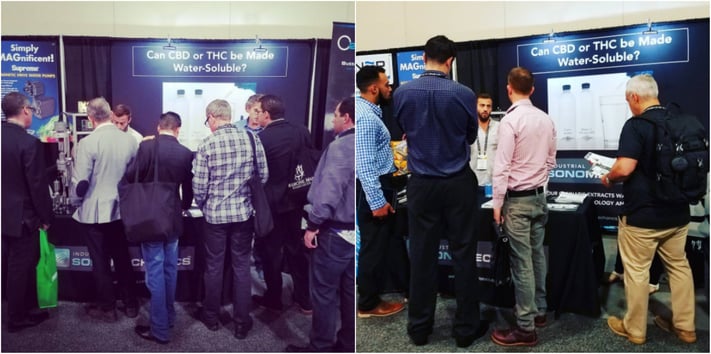 Non-stop busy at the ISM booth!
"Doctors and patients need to be able to accurately dose their CBD or THC, otherwise treatment protocols cannot be established or followed. This has been very difficult with products currently used in the medical cannabis industry. Cannabinoid extract nanoemulsions fulfill this need, making it possible to quickly and accurately deliver the required doses of cannabinoids to the bloodstream, independently of other factors", says Marina Mabragana, M.D., ISM's Medical Science Liaison.
In addition, consuming cannabis in the form of an infused beverage is a very convenient intake method. At the expo, our team discussed the increased popularity of nanoemulsified cannabis-infused beverages (e.g., CBD- and THC-infused water, juice, tea, coffee) with hundreds of product manufacturers.
"When consumed orally, traditional cannabis products undergo a slow process of gastrointestinal absorption, leading to a delayed onset of medicinal action and a low, unreliable bioavailability. The pharmaceutical industry has a well-established solution to these challenges: the delivery of a water-insoluble drug can be tremendously improved and stabilized by formulating it as a nanoemulsion. We make it possible to apply the same solution to the medical cannabis industry", says Alexey Peshkovsky, Ph.D., ISM's President and Chief Science Officer.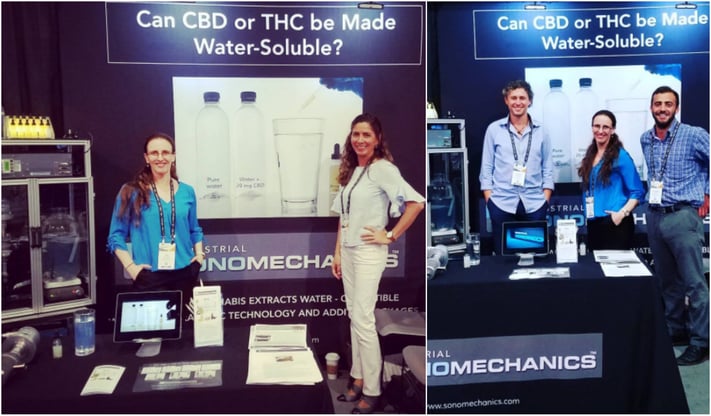 Iva, Marina, Alexey and Shlomo at the ISM booth. 2017 MJBiz Conference & Expo.
Ultrasonic processing is fast, convenient and low-cost, which is why so many companies are switching to making their cannabis-infused products in-house. Unlike conventional ultrasonic equipment, ISM processors are directly scalable and appropriate for the commercial production of high-quality nanoemulsions. With our patented Barbell Horn Ultrasonic Technology (BHUT), one can expect reproducible post-scale-up results, where the production rates are increased by orders of magnitude with no loss in the final product quality.
ISM laboratory, bench, and industrial-scale ultrasonic processors make it possible to: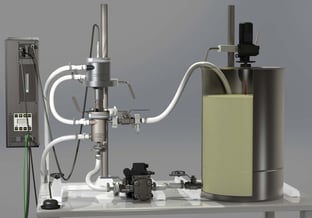 Turn cannabis concentrates and isolates into fully water-compatible nanoemulsions with enhanced bioavailability and rapid onset of action.
Create food- and pharmaceutical-grade cannabinoid formulations that can be easily mixed into any beverage.
Produce translucent CBD and THC nanoemulsions to infuse water with a strong dose of medicine while retaining optical clarity.
ISM regularly publishes articles dedicated to its research in the medical cannabis field. You can find our latest publications on this topic at http://blog.sonomechanics.com/blog/topic/medical-cannabis.
Questions or suggestions? Please do not hesitate to contact us and let us know.