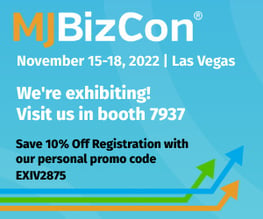 We are excited to announce that Industrial Sonomechanics (ISM) will participate in the MJBizCon 2022, taking place on November 15 - 18, 2022, in Las Vegas, Nevada.
At this event, our team will be showcasing ultrasonic processors (actually running them!), accessories & spare parts, NanoStabilizer® products and finished nano-formulations, so bring your team and join us at this largest cannabis convention of the year!
If you are interested in formulating and producing your own water-soluble liquid and powdered cannabis, kratom and/or other bioactives, please come see us at Booth 7937.
Time and location:
Las Vegas Convention Center, South Upper Hall
Booth 7937
November 15 - 18, 2022
Venue address:
Las Vegas Convention Center, South Upper Hall
3150 Paradise Rd
Las Vegas, NV 89109
Use the link below to register:
ISM is a research & development, equipment design, and process consulting firm, specializing in high-intensity ultrasound for the cannabis, pharmaceutical, nutraceutical, and cosmetics industries. Our laboratory, bench, and industrial ultrasonic processors in conjunction with All-In-One NanoStabilizer®-LT and LSO enable our customers to make their own top-quality nano-formulations at any scale.
Turn any type of cannabis extract (oil,

isolate, or distillate) into a

nanoemulsion

with enhanced

bioavailability

and rapid onset of action.

Produce

translucent

CBD and THC nanoemulsions to infuse water or another drink with a strong dose while retaining optical clarity.
Achieve full water-compatibility and permanent stability.
Ensure precise dosing and predictable effects.
Avoid having to develop formulations and processing procedures.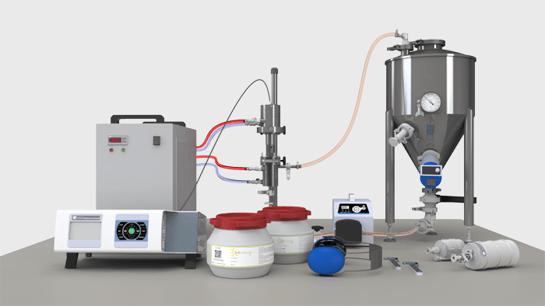 BSP-1200 ultrasonic processor (continuous, flow-through configuration)
With our Barbell Horn Ultrasonic Technology (BHUT), our customers can expect reproducible post-scale-up results, where the production rates are increased by orders of magnitude with no loss in the final product quality. Learn more about Barbell Horn Ultrasonic Technology by watching the below short video and, if interested, subscribe to our YouTube channel, where we regularly post educational videos and process demonstrations.
ISM participates in multiple cannabis industry trade shows across the U.S. throughout the year. To receive updates on where we are going next, please subscribe to our blog or check out our Events web page.
ISM Web Store: Check Back Often for New Product Releases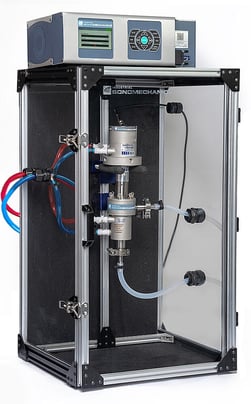 NEW: Noise Reduction Enclosure, NRE-30
Ultrasonic liquid processors (a.k.a. sonicators, ultrasonic homogenizers) are frequently utilized in shared work spaces. The noise emitted by these devices, however, can cause significant discomfort and must be mitigated.
With our new NRE-30 sound enclosure, you can bring the noise produced by your ultrasonic processor down to a comfortable level while maintaining a clear 270-degree view and easy access to the enclosed equipment.
The unit features a sturdy but light and compact frame for easy transportation and fits all ISM ultrasonic processors as well as third-party sonicators or other loud equipment.
If you have any questions, please leave your comments below or contact us.
About Industrial Sonomechanics, LLC
Industrial Sonomechanics, LLC, (ISM) is a U.S.-based research & development, equipment design & manufacturing, and process consulting firm specializing in high-intensity ultrasonic technology for liquid treatment. ISM's patented Barbell Horn® Ultrasonic Technology (BHUT) allows generating extremely high ultrasonic amplitudes and cavitation intensities at any scale, making it possible to directly apply laboratory optimization results in an industrial production environment. ISM helps businesses optimize their ultrasound-assisted processes and implement them in commercial-scale production. Globally, clients can utilize ISM ultrasonic liquid processors in conjunction with NanoStabilizer® formulations or contract with ISM to provide finished nano-formulations. Visit www.sonomechanics.com for more information. Continue the conversation on Facebook, Twitter, LinkedIn and YouTube.