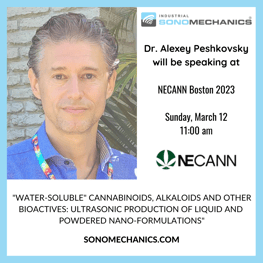 We are excited to announce that Industrial Sonomechanics (ISM) will participate in the 2023 New England Cannabis Convention (NECANN) taking place on March 12th, 2023, in Boston, MA.
At this event, ISM President and Chief Scientific Officer, Dr. Alexey Peshkovsky, will deliver a keynote presentation entitled: "Water-Soluble" Cannabinoids, Alkaloids and Other Bioactives: Ultrasonic Production of Liquid and Powdered Nano-Formulations."
If you are interested in learning how to formulate and manufacture cannabis, kratom and other bioactives in the form of a water-soluble liquid or powder, please come to Dr. Peshkovsky's talk.
Time and location:
NECANN 2023
Programming Room: 105
Sunday, March 12, 2023
11:00 AM - 11:50 AM
Venue address:
Hynes Convention Center
900 Boylston St
Boston, MA 02115
Use the link below to register:
ISM is a research & development, equipment design, and process consulting firm, specializing in high-intensity ultrasound for the cannabis, pharmaceutical, nutraceutical, and cosmetics industries. Our laboratory, bench, and industrial ultrasonic processors in conjunction with All-In-One NanoStabilizer®-LT and LSO enable our customers to make their own top-quality nano-formulations at any scale.
Turn any type of cannabis extract (oil,

isolate, or distillate) into a

nanoemulsion

with enhanced

bioavailability

and rapid onset of action.



Produce

translucent

CBD and THC nanoemulsions to infuse water or another drink with a strong dose while retaining optical clarity.
Achieve full water-compatibility and permanent stability.
Ensure precise dosing and predictable effects.
Avoid having to develop formulations and processing procedures.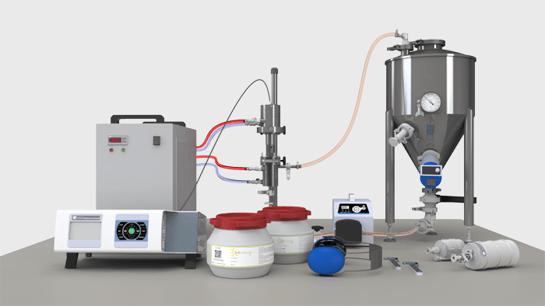 BSP-1200 ultrasonic processor rendering (continuous, flow-through configuration)
With our Barbell Horn Ultrasonic Technology (BHUT), our customers can expect reproducible post-scale-up results, where the production rates are increased by orders of magnitude with no loss in the final product quality. Learn more about Barbell Horn Ultrasonic Technology by watching the below short video and, if interested, subscribe to our YouTube channel, where we regularly post educational videos and process demonstrations.
ISM participates in multiple cannabis industry trade shows across the U.S. throughout the year. To receive updates on where we are going next, please subscribe to our blog or check out our Events web page.
NEW VIDEO:
Large-Capacity In-Line Filter: Assembly, Nanoemulsion Filtration, Cleaning, and Storage Procedures
If you have any questions, please leave your comments below or contact us.
About Industrial Sonomechanics, LLC
Industrial Sonomechanics, LLC, (ISM) is a U.S.-based research & development, equipment design & manufacturing, and process consulting firm specializing in high-intensity ultrasonic technology for liquid treatment. ISM's patented Barbell Horn® Ultrasonic Technology (BHUT) allows generating extremely high ultrasonic amplitudes and cavitation intensities at any scale, making it possible to directly apply laboratory optimization results in an industrial production environment. ISM helps businesses optimize their ultrasound-assisted processes and implement them in commercial-scale production. Globally, clients can utilize ISM ultrasonic liquid processors in conjunction with NanoStabilizer® formulations or contract with ISM to provide finished nano-formulations. Visit www.sonomechanics.com for more information. Connect with us on Facebook, Twitter, LinkedIn, Instagram, and YouTube.